Ha! Michelle and Todd were right, these are tough! And I'm insane now.
Let's do a recap:
Friday (I don't work on Friday's) I started around noon with the recipe. And I immediately had baking fail. Honestly, that doesn't happen to me but I totally blame the recipe. The ingredients were translated from grams into what we know as "traditional cooking measurements" and I should have been leery. The dough in the mixer was VERY dry even after incorporating the wet ingredients. So I let my mixer throw it around for a few minutes and then I called it good.
Mistake #1 (luckily, there were only a few.)
Silly me to think dough that was hardly mixed would rise. Oh, did I say I had to be somewhere at 6pm? Yes, I figured I could easily get to the part where it could rest overnight by the time I had to leave.
Mistake #2
The dough didn't rise after 3 hours (THREE HOURS!). So I said screw that recipe and did a quick search for "Julia Child Croissant Recipe" and found this one from Mamaliga. After reading through and drooling over the pictures, I realized I could salvage the dough.
I took it out of the bowl, kneaded it by hand, plopped it back in the bowl and set the oven to the "hold" temp (175 degrees) and placed the bowl on top of the stove. (read that Todd? On top, not in it 😉 )
I WIN, it ROSE, but it was 6pm! So I shut off the oven and left it there to finish rising while I went out for some culture (and evening at the Orchestra). When I got home it tripled and I put it in the fridge to stop the yeast from covering my stove with dough.
Saturday: Let's just say I gave up on dough #1 and tossed it. While it started off promising (I let it get to room temp), the dough was just so dry. Rolling it was difficult and it was missing something.
So at 2pm on Saturday afternoon, I started over with the new recipe and already felt better about it. It mostly looked like her photos. I didn't expect it to be perfect but it was close!
Someone needs to tell me that I live in Minnesota and it's freaking freezing here. There's a good chance that's why my dough (for any recipe) takes forever to rise. Same case here. Not a big deal, just takes a long time.
I didn't follow her directions for the butter. I used recipe #1 for the butter directions and felt it worked just fine. All the turns worked nicely but by the last one, it was hard to roll out. Fourth turn and into the fridge overnight for my dough to rest.
Sunday: The dough was cold and while it was a little tough to roll out, it wasn't impossible. I really had to put some effort into it but I got it 20 inches long. I cut the dough the best I could and lol'd at myself because they were gonna be small. At this point though, I didn't care. I got 12 croissants just at the recipe said I'd get.
I let them rest for about 2 hours (where they puffed up), egg washed them, baked and got these beauties:
Not too shabby, eh?
Masterpiece? Ok, so two came out a little funky. They tasted fantastic though. They were very buttery and had lots of flaky layers. Justin loved them!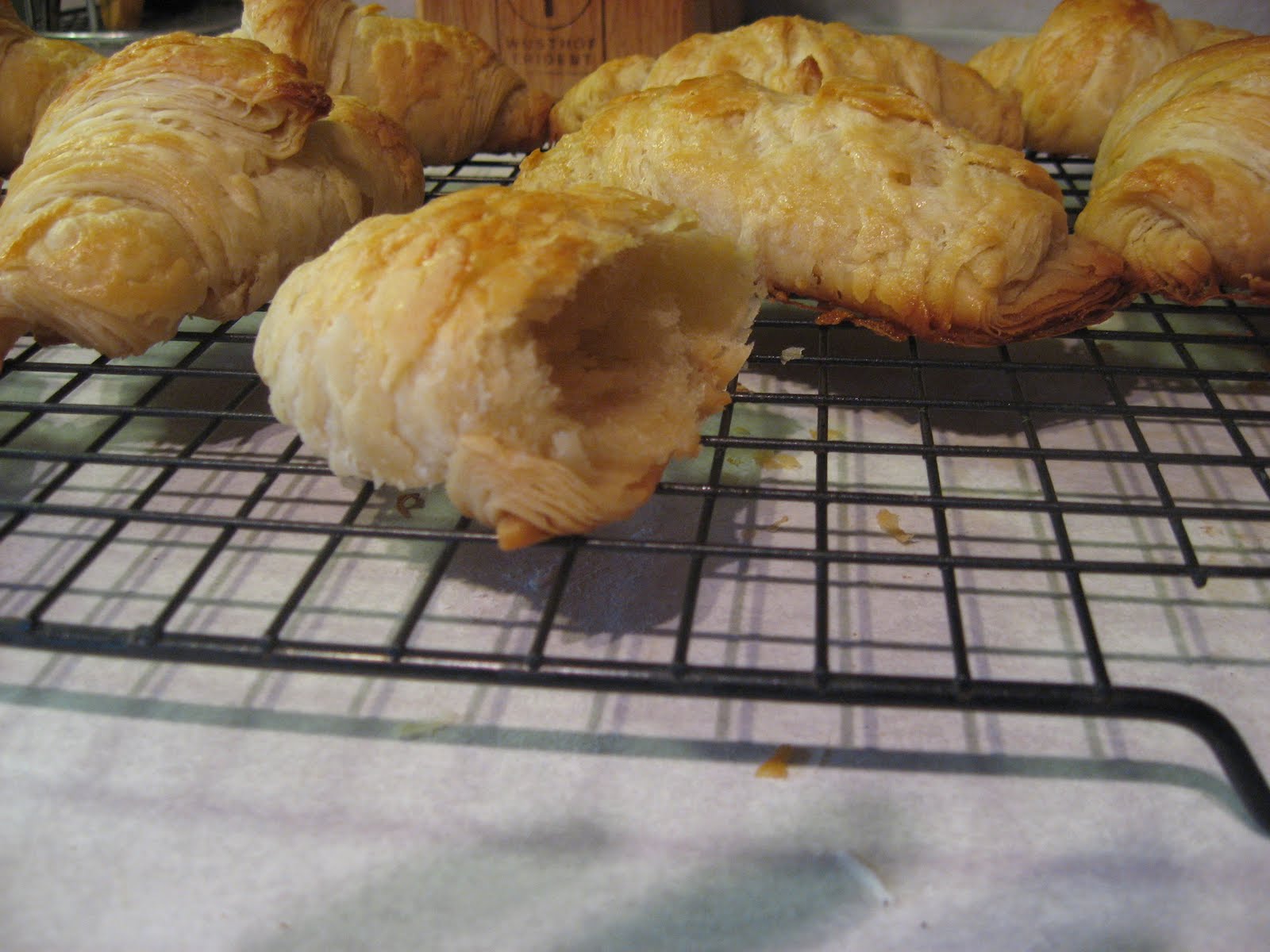 They were still hot and the middle kinda came out when I split it open. The inside is always my favorite 🙂
Ok, so after the challenges I had in the beginning, I would make them again. (Yes, I'm insane.) There really isn't a lot of hands-on action going on, it just takes A LOT of time. But why spend 3 days doing this? So when I do it again, I'll double the batch and freeze the dough for the future.
Worth the effort, meh, not sure. But I like challenges.