*ETA – Check the comments for Justin's take on cloth diapers.
After my first post on how we were using cloth diapers, some things have changed and some stayed the same. So I thought I would do an update for those who are interested. If you're not interested, see you around!
Ok, so let me first start off by saying I still like cloth diapers but there are times when I use disposables. I have a big enough stash where I don't need disposables. But sometimes, I'm just too lazy to get them from the laundry room or get them washed in a timely manner. It happens and I don't beat myself over it.
These are BumGenius All-in-Ones. When I did the first diaper post, Jules was wearing the little yellow one (size small). He now wears the large. He was in the small from 1 month to about 4 or 5 months. Then he moved to the medium and wore those til almost 10 months. The large is still big on him and he could squeeze into the mediums but I was ready to streamline my stash.
So, what have I learned?
1. There was a time when we got a HORRIBLE ammonia smell. I thought it wouldn't happen, but it did. It took a while to really get them clean and figure out a washing routine that worked for me and the diapers. So until I did get them sorted out, I used disposables. (and that's ok!)
2. Our stash has changed. We mainly had AIO's (all-in-one's) and pockets (all BumGenius brand diapers.) We also had kissaluvs (fitted) but he grew out of them. Oh, how I can't wait to use those on a new baby. I LOVED them.
AIO's have a downside. Once used, that's it, time to wash. So if you want to do an entire AIO stash, you need a lot of them. After Jules outgrew the mediums, I moved onto a new diaper that just came out, the Grobaby hybrid diaper.
Grobaby (now, rebranded as GroVia) on the largest setting:

This has a snapable insert made from 100% organic cotton, a cover that is breathable (no PUL), adjustable, and aplix (velcro) that is very flexible.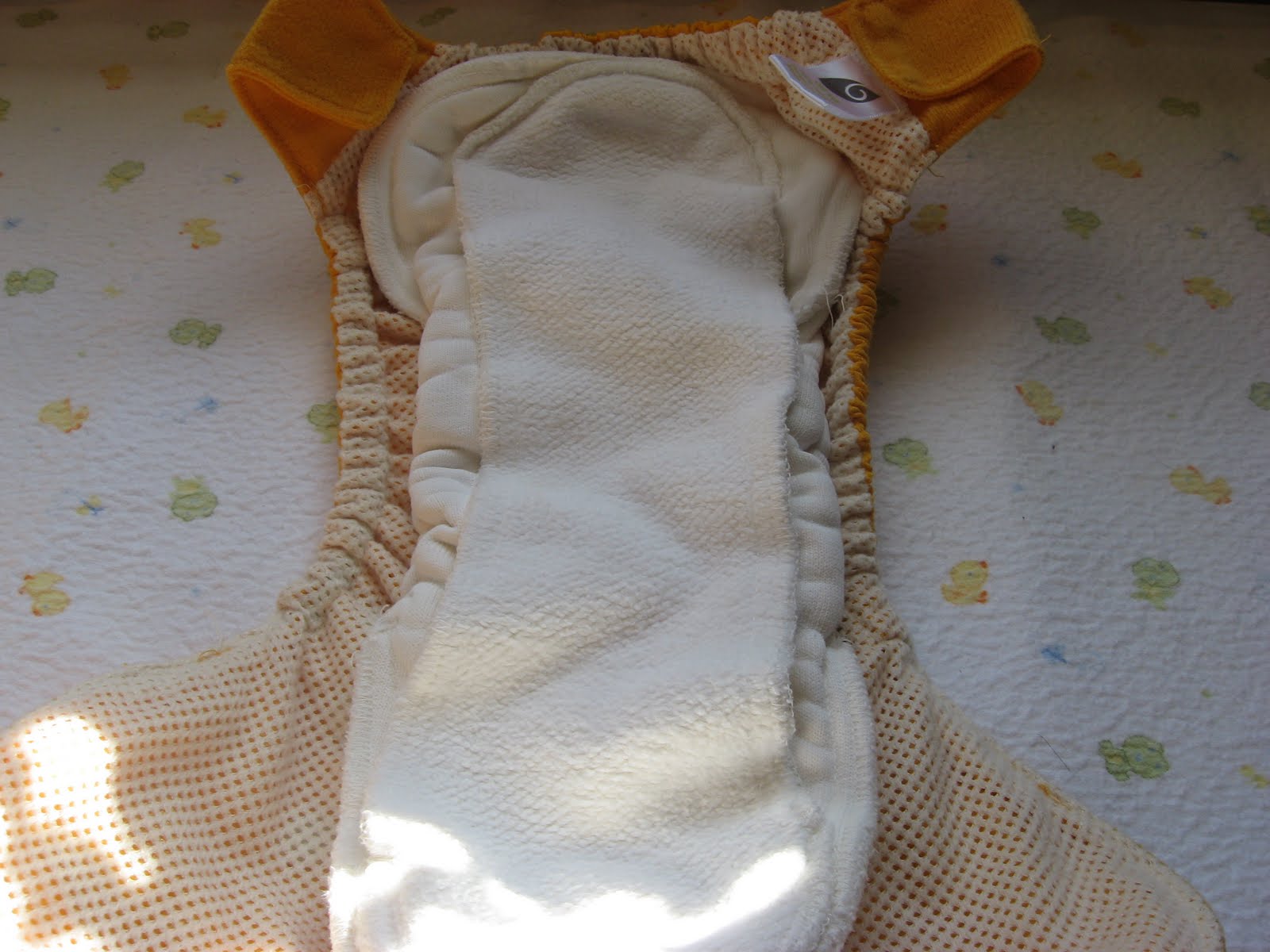 I really like these inserts because gusset has elastic sewn in the insert, not just the cover. If you are sizing the cover down to small or medium the insert will fit as well. On the small setting, you do have to tuck the insert in since it'll pop up the top. But it's not a big deal.
Grobaby also has a disposable insert option. These biosoakers are flushable and have a sticky backing to hold it in place. However, I don't use it because it leaves a sticky residue. We took this system to London with us and had no issues at all. No leaks, no nothing. The inserts are very small and we carried enough for a week on our trip to London without taking up tons of space.

Biosoaker folded up (super thin) on the left, snapable insert on the right.
Disposable inserts also have elastic to help contain messes. To dispose of them, shake off any solids then tear the side, shake the interior contents in the toilet and toss the shell of the insert. Or you can throw the entire thing away.
I have more inserts than covers because we can reuse a cover a few times before washing. I do have two issues with this system:
1. The elastic on the covers are thick and leave marks on Jules' legs. But, elastic on cloth diapers are vital in my opinion. Without it, leaks can happen and you might as well use a disposable. 2. The rise is very short. So if you have a kid who's really tall in the torso, these might not work. But the Grovia version solved that with a higher rise.
Also, the inserts for Grovia will fit with the Grobaby covers. Grovia inserts are slightly different. They have a waterproof backing so you can use a cover even more often.
Up next, the Flip (from BumGenuis).
This is basically an adjustable cover with an adjustable insert. The insert is microfiber with suede cloth one one side (the side that should be placed next to baby's skin).
I really like this system because they are very trim. I wish I had more covers but I really don't need anymore diapers! The Flip cover works really well with prefolds and the best part are the snaps. Jules can't undo this diaper and the velcro doesn't snag on his jammies.
So those are the two new diapers that we've been using in addition to the BG's.
Now that Jules isn't nursing, washing diapers is a bit different. A friend of mine sent me her entire diaper stash along with a diaper sprayer. For the longest time, I told myself I didn't need a diaper sprayer. But after having so many issues with diapers not getting clean and winding up super stinky even after washing, I figured I'd try it.

It took all of five minutes to install and it makes a world of difference! Now, a soiled diaper is brought to the bathroom, we switch the water on, spray everything off, and drop the diaper in the hanging wetbag I had made from a seller on etsy.com.
On wash day, I grab the bag from his room and the hanging wetbag, take everything down stairs and toss it all into the washer. I do a presoak with a cup of vinegar, then a hot wash with soap (Dropps), and a double to triple warm water rinse.
Honestly, use whatever soap works for you. People have success using Tide, others stick to diaper safe detergent. Some say don't use vinegar, others say it's ok. I've been using vinegar for over a year and haven't had any issues. Like I said, use what works for you.
And just for fun, here are pictures of the diaper drawer: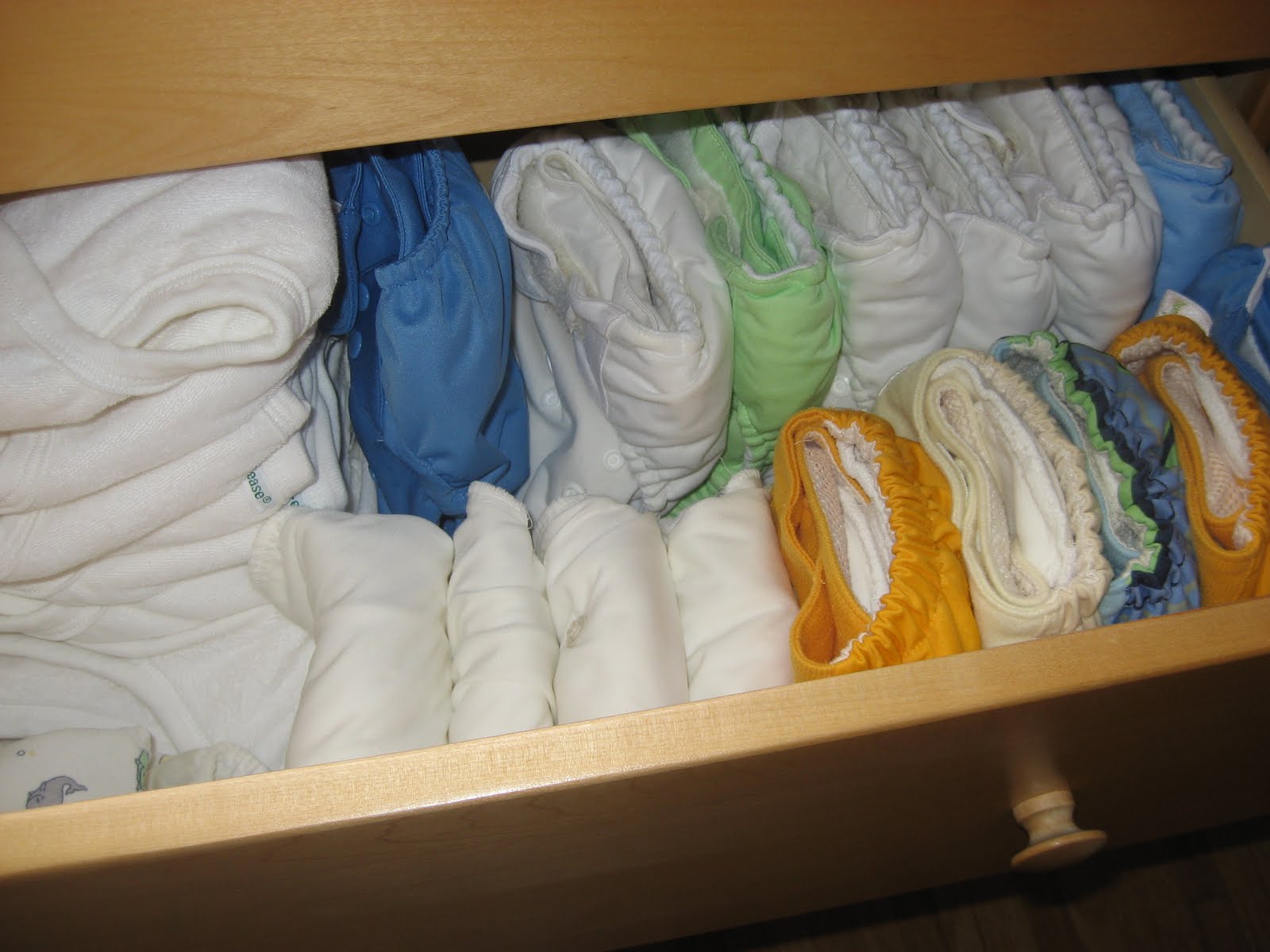 At the top are the BumGenius 3.0 (one size pocket diaper). The row below that are my new hybrid diapers, Grobaby. To the left of the Grobaby are four extra inserts for Grobaby. And to the left of the dark blue diaper are Motherease one-size fitted diapers. I'll talk about those at another time.
The other side of the drawer:

Top right are the Motherease again and below are covers. In the container to the left, all my extra Grobaby/Via, Kissaluv and BG inserts. Inserts are good for nap time or if your kid is a heavy wetter.
So that's it. (phew!) A year+ – almost 2 years – in cloth diapers. I'm no expert, but if you have any questions, just ask.