When you want to carry some stuff beyond a 6-pack of beer on your bike, trailers are the way to go. Minneapolis, being the bike-friendly city it is, is home to the "Little Red Trailer" – a neat little trailer that's made from recycled wood.
David of Dayworks Inc. builds sets for theater productions, and when it's time to strike, he uses the wood to fashion the trailer. It has a metal frame at the base and 12″ pneumatic tires.

It comes with a rudimentary, yet versatile mounting system which can hook up to virtually any bike. It has evolved over time, so the one you receive may not look exactly like the one in my older photos or other reviews.
Making All Trailers Interchangable
In some of the photos in this article, you'll see the trailer hitch mount in its original form. But shortly after purchasing a used Chariot trailer, I realized how convenient it would be if both my and Jessi's bikes could interchangeably tow either the Chariot or the Red Trailer.
I really liked the Chariot mounting system, so I contacted David at Dayworks and he supplied me with a "virgin" hitch-arm. I purchased a Chariot Axle-Mount ezHitch Upgrade to add to the hitch-arm. It includes almost everything needed to adapt the trailer, except an extra-long bolt to secure the lollipop, which can be easily purchased from the hardware store.
The only issue was the "lollipop" that Chariot uses is smaller in diameter than the tube steel of the Red Trailer hitch-arm. So I went to the hardware store and browsed for some suitable PVC pipe to act as an adapter. The one that worked for me was this:
With some sanding I was able to get it into the hitch-arm tube. Then I drilled a hole through both the hitch arm and the adapter for the lollipop fastener bolt, which also holds the lock pin, safety strap, and D-ring. Here you can see it installed with all the accouterments:
Putting it to use
I initially got this trailer to get propane refills from the local convenience store – the trailer can accommodate 2 propane tanks. But I shortly realized it can do so much more. It really opens a world of what you can carry via bicycle.
I've gone to the hardware store and returned with multiple 5-gallon buckets full of gardening or syruping supplies.
More often that not, I use it to shuttle goods between my parents house and my own. It's carried several bike parts including a complete kid's bike:
On one one trip to my parents, I spotted a rad retro-style ottoman at a garage sale. It was only $5 and I already had the trailer, so I just added it to my cargo.
It's great for a large grocery trip – it can carry up to 4 bags.
While the trailer explicitly recommends against carrying animals, I've done it. Once you start moving past 10MPH, the excitement of fresh air and the fear of jumping out keep the dog in place.
We've even used it for a short camping trip: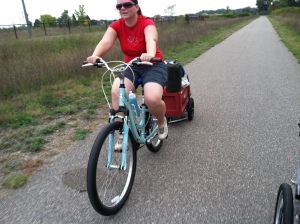 Happy Trailering!