Our State Fair is the BEST State Fair and you are invited to stay at my house to spend a day (or two or three!) at the Minnesota State Fair eating everything you can. Phew!
Bucket-o-Cookies. Let me tell you, these are so good, so soft, so right out of the oven warm! We have to get some every time. Ok, once you get this, head over to the all-you-can-drink milk (and chocolate!) for $1!
(yes my once 3-month-old needed a wardrobe change.)
Ok, after you've chugged so much milk you wanna puke (because it's hot out). Take a seat…if you can find one.
After resting for a moment, wander around and see if you can spot some interesting people.
Ready for some more food? How about some cheese curds? A staple at the Fair.
Don't like cheese curds? How about a Quesadilla?
Still not your thing? Hmm, ok. Oh! Food on a stick! How about tator tots on a stick?

Or Fried Mac and Cheese on a stick?
Looking for something unusual? The Minnesota State Fair doesn't disappoint! Chocolate covered bacon!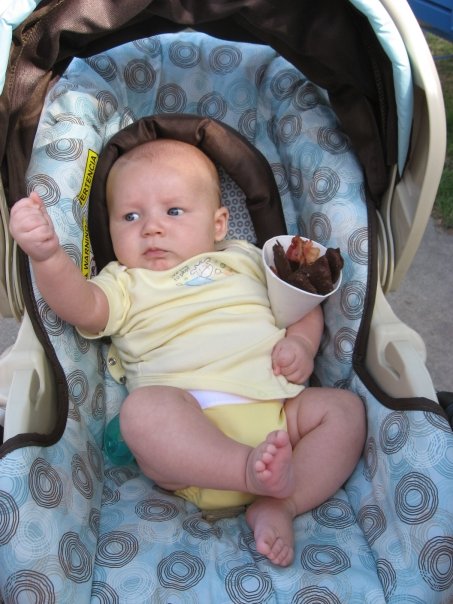 (Not another wardrobe change, we went for a second day!)
For reals, we love the State Fair! Discount tickets are now on sale so if you wanna come up, make your plans! August 26th through Labor Day. Great food, great music, great people watching. So who's in?