Now that we're about 4 weeks into actual summer, I feel it's going to be fall sooner than later. This summer is flying by! Justin and I have been busy with Minnesota Brass Drum and Bugle Corps. When we reviewed the schedule back in March, I knew it would be a time commitment, but it's been fun.
(After our first performance and on-field interview.)
We've had a bunch of shows and parades for the past 3 weeks. One such show was in Bridgeport, Connecticut. On the way we got to stop off in Manhattan to spend the evening. Not much you can do in about 4 hours, but we did our best.
Such a flattering photo, thanks Justin! Times Square
Ate at probably THE.BEST hamburger joint ever – Shake Shack.
Not pictured: A stop at Mood fabric store! (Sound familiar? It's the fabric store Project Runway contestants go to. It was awesome! I couldn't leave without getting something.)
A stop at Grand Central Station to find Jules a train. Mission accomplished – got him the "J" train 🙂
And finally, we got a world-famous Crumbs Cupcake. It was delish!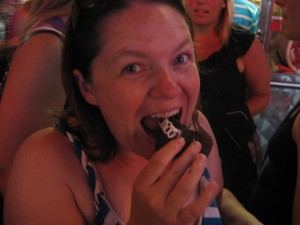 Poor Jules. He's been shuttled from our house to Grandmas so many times in the past month, but he doesn't complain. It could be due to the fact that they take him to Target and let him pick out a toy almost every time or they let him eat whatever he wants or they let him sleep in the "little bed" (the crib, which he loves sleeping in). He's taking us being gone so often really well. Me on the other hand, not so well. I miss him!
We celebrated Jules' 3rd birthday last month. My father-in-law took the photos and I haven't gotten them yet. Jules was so excited to have friends over to play and paint but he came down with a fever that day and ended up crashing on a chair in the living room. It was really sad but he bounced back pretty quickly.
This week is another busy one. Rehearsal Wednesday, Friday and Saturday with the big DCI Minnesota show Saturday night. Since we were champions last year we perform last, after all the top junior corps. It's exhibition but still… Then we leave for Show of Shows on Sunday and get home Monday. Then we have about 2 weeks of a somewhat normal schedule. Phew!