I am not a gun nut, but this build was inspired by this comic and conversation:
Looking at it made me think that a similar, but more useful application of vertical bike rack storage, would be for fishing rods. Moore Lake is just down the hill from where I live, and it's stocked with Bluegills and Bass 🎣
I made this fishing rod holder that attaches to my bike rack for less than $20, mostly from scraps I had in the garage. It holds four rods, but you could adjust it for as many as you'd like, as long as your bike rack setup will accommodate them.
Materials
This is everything I used for this build:
1-1/4″ PVC Pipe – find a scrap piece to get it cheap
1-1/4″ PVC Coupling(s) – one for every rod you want to hold
Tube Strap(s) for 1 1/4″ PVC – one for every rod holder
PVC Primer & Cement
1/2″ thick plywood or fiberboard – I had a scrap laying around, you can get a small 2'x4′ project panel if you don't have any scraps.
#10 x 1/2″ sheet metal screws
#10 x 3/4″ sheet metal screws
Steel sheet metal – I had a scrap laying around. It doesn't need to be thick – it's just used to stick to the bike rack magnet.
3D printed rack hooks – If you don't have access to a 3D printer, comment below if you'd like me to make one and mail it
PVC Construction
I chose 1-1/4″ PVC because all of our rod handles will fit into that size pipe – you should test fit your thickest fishing rod before you buy.
I attached a PVC coupling to the pipe and then cut the pipe (with the coupling attached) using a hacksaw to 9 inches. This was both the size of my scrap wood and the size of the longest rod handle. You should go longer if your handles are longer than 9 inches.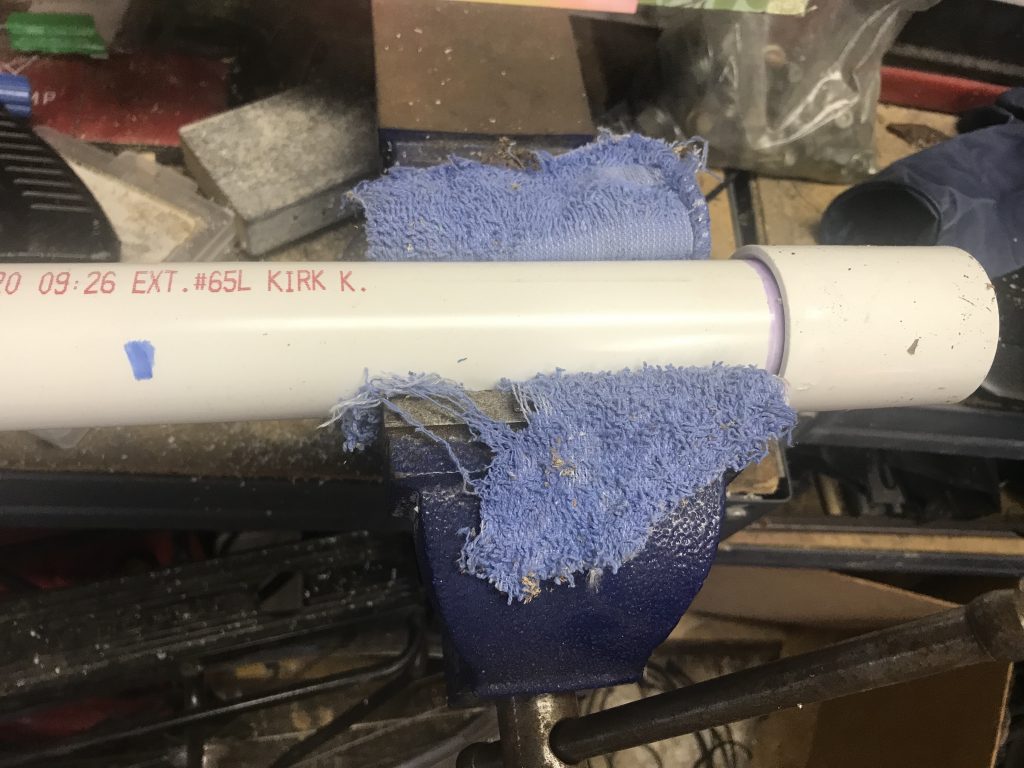 To make a permanent connection, I used PVC primer and cement to bond the couplers to the pipes.
The couplers are there to serve as stops for the tubing straps – so they don't fall through them.
To fasten the tube straps to the board I used #10 x 1/2″ sheet metal screws. I pre-drilled holes in the wood with a 1/8″ drill bit, then used a screwdriver on the screws.
I designed 3D printed hangers because I couldn't find any readily available hooks that I liked at the hardware store. I like Topeak racks because of how their bag systems attach. I designed the hangars to conform to the Topeak's 10mm rod construction – which I believe is a standard size for many bike racks.
To fasten the hangers to the board, I used #10 x 3/4″ sheet metal screws.
Backing and Hangars
The board I used was some leftover 1/2″ plywood. Mine was 9″ wide so I went with that – luckily that's how long our rod handles are. You can cut the width to however many rods you want to hold. For my 4 rod holders it wound up being 15″x9″.
To make sure everything lines up well on the back, I used my Thule panniers as an example. The metal plate that sticks to the magnet is approximately 9″x4″ – so I cut a piece of sheet metal that size. You can use a hacksaw to (slowly) cut it. I used a cutting wheel to make quick work.
I also used the Thule pannier as a reference to gauge the placement of the metal backing position relative to the hangers so they'd be generally in the right place. It will ensure the steel plate is the right place so it will line up with the rack magnet without having to move it around on the rack.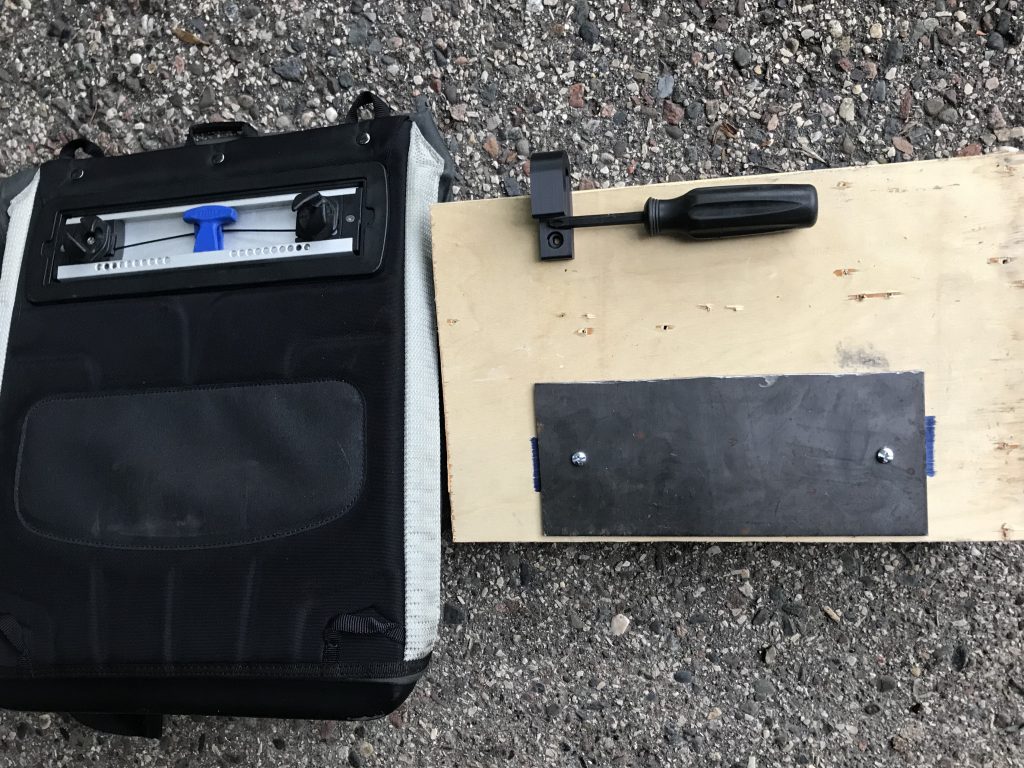 I used 3/4″ screws to fasten the hangers, and 1/2″ screws to hold the steel plate. I pre-drilled the steel with a 3/16″ drill bit, and the wood with a 1/8″ one.
The hangers are 3D printed. If you don't have access to a 3D printer, comment below and I'll get in touch with you to send a set your way.
That's it!
Gone Fishin'
There's no provisions on this rack for bait and tackle, but you can use the opposite side of the rack for a pannier, or just put your bait and tackle in a backpack.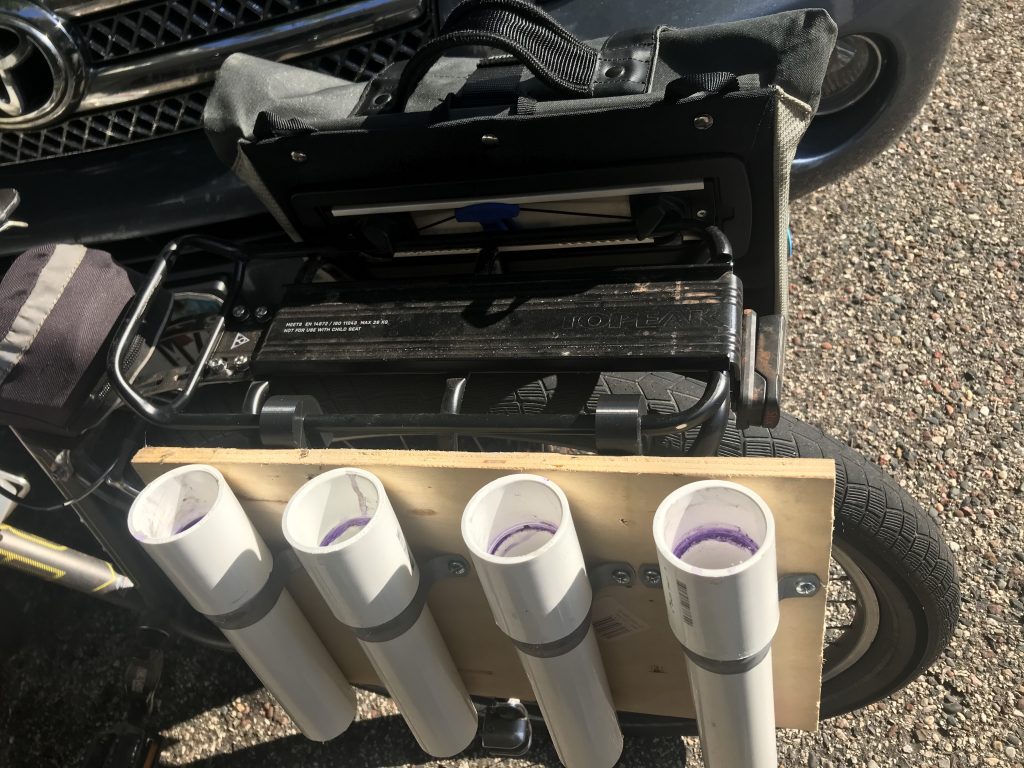 When I'm fishing while paddling, I keep a very small tackle box on the boat with me, and that is also perfect for local fishing by bike.
Usability tips
Riding around with 6-foot fishing poles is like riding around with a whip antenna – it's real tall. Just beware of any low tunnels or doorways, tree branches, etc.
Also, you're not going to be able to put a leg over the back like you normally would. A pole (and hooks) will prevent you from doing that. Be mindful while you're getting on and off.
I (perhaps stupidly) tried out the purple worm seen in my tackle box above – set up as a Texas Rig. I felt some serious bites, but I didn't land anything. In the end I'm lucky because I didn't bring a net if I actually had caught a tenacious bass.
While I didn't bring one, you could certainly put a net in one of the holders. This is more of a catch-and-release type of rig, and I wasn't planning on any big bites my first time out, just a couple of sunfish 🐟
Want a set of 3D printed bike rack hangers for your DIY project? Comment below so we can connect!