Full disclosure: I like Topeak's bike rack products with their QuickTrack system. It started with the BabySeat, which both of my kids rode in, Then I bought the worlds most expensive milk crate for beer runs. But the most versatile attachment is the trunk bag.
My only complaint about this trunk bag is the Made in China tag. Not because of the country of origin, but because of its placement. From day one of owning this bag, it was perfectly in the way of the zipper. You can see that mine has been "run over" by the zipper a number of times.
Despite the stupid tag, this thing has several useful compartments. Mesh zippered pockets on the sides where I keep sunscreen, lip balm, zip ties, and rain covers for shoes.
There's a mesh pocket and elastic cords on the top for anything you want to have quick access to – or if you want to strap something down that is bigger than the bag.
Inside it's one big compartment, but on the lid there's another pocket inside. I keep a set of repair tools with a patch kit, and a couple maps of the local trail system.
On the back there's a handle for easy carrying and even a place to mount a light (I keep my light mounted to the rack itself).
It securely locks into place with the trademark Topeak QuickTrack system, so I never worry about it flying off.
Case Study: RC Trunk
I write about radio control (RC) related stuff over at MeatballRacing.com and recently I found a YouTube channel called Berm Peak that also shares my enthusiasm for both bicycles and RC.
In this video he reviews a different Topeak trunk bag that has fold-out panniers.
He put in a 1:24-scale crawler, which is a perfect fit for these bags. Similarly, I put in my Jeep, the controller, some sunglasses and headed to the local nature center to do some crawling.
Elapsed Time
Moving Time
Distance
Average Speed
Max Speed
Elevation Gain
Calories Burned

01:13:37

hours

00:10:20

hours

1.04

mi.

6.04

mph

8.72

mph

61.35

ft.

118

kcal
Put the studded tires on and rode to a trail nearby for some snowshoeing
When when I got there, I switched to snowshoes for a hike.
Elapsed Time
Moving Time
Distance
Average Speed
Max Speed
Elevation Gain
Calories Burned

00:57:56

hours

00:13:30

hours

0.43

mi.

31:07

min/mile

12:46

min/mile

27.23

ft.

29

kcal
Went to Innsbruck Nature Center… Honestly didn't need snowshoes – the trail was already hard-packed from hikers. Was good to venture off of the trail however. Tested out my SCX24 RC Crawler 😎
I can't fit the showshoes in the trunk bag, but I have a carrying solution for those I'll share later.
I hiked to a good spot and played in the snow.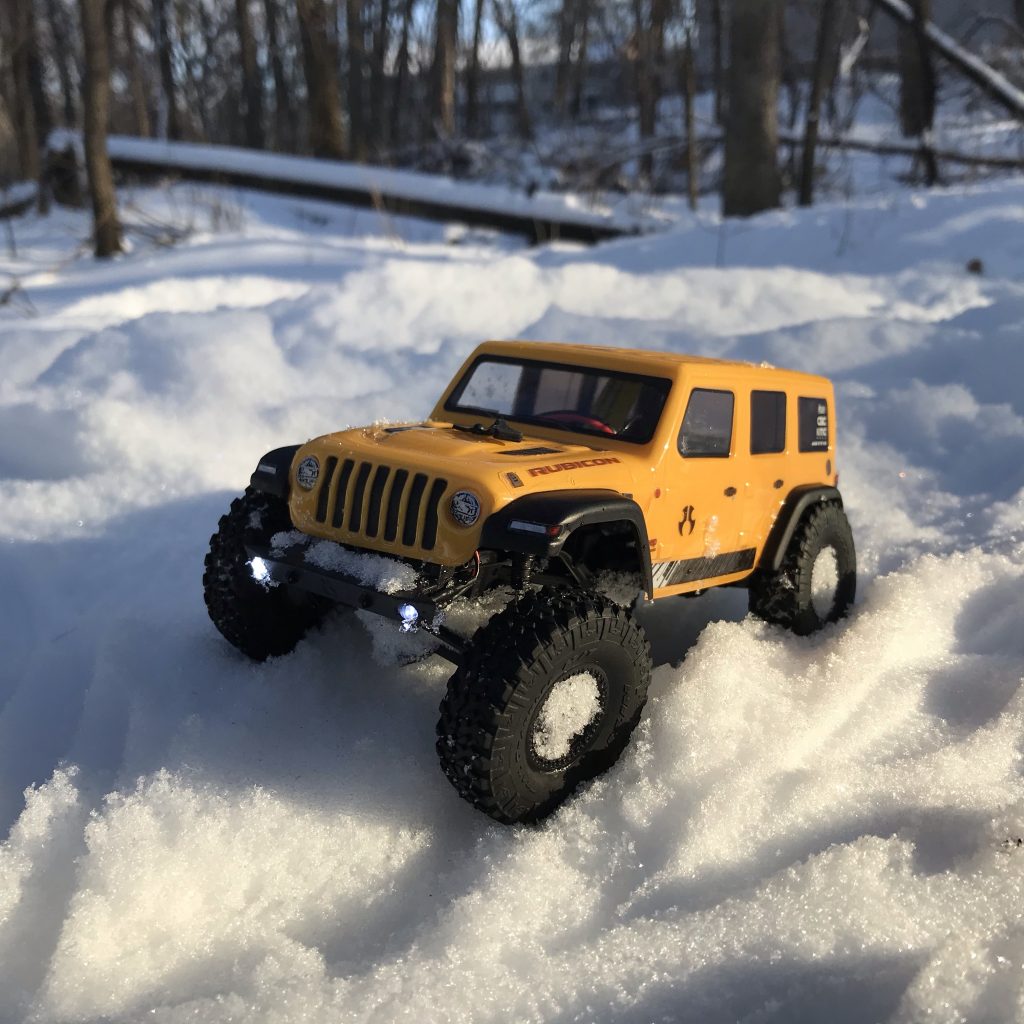 The trunk bag is indeed super versatile – I feel like every year I come up with another useful way to use it.