I like to think that I'm not sexist, but my reputation may precede me.
At some point during my college years, I started using a reverse-psychology approach with women I knew (usually girlfriends) – telling them they couldn't do something – in hopes that they'd be motivated to prove me wrong.
Ask my wife – this is the wrong approach. Reverse psychology only works on a certain type of person, usually enemies, and (hopefully) they're not the majority. People want to be built up, not torn down. The other bad part of this reverse-psychology habit was that as I told women that they couldn't do something, I was slowly and subconsciously telling myself that they couldn't.
I had to stop doing it. Then, a wake-up call came. I learned I'd be having a daughter. Was this my punishment for my transgressions? Would this mean all of the secrets of the female psyche would be revealed to me? Probably not. But I want to make sure both my son and daughter, if they choose to follow my footsteps into a technology field, are both given the same opportunities and the same treatment.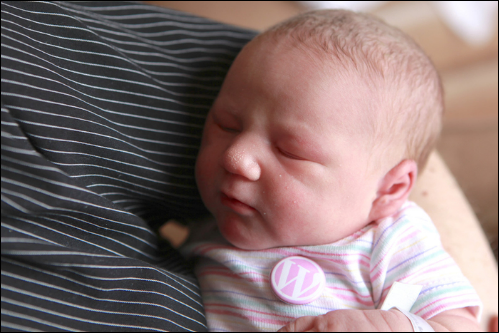 As soon as I learned I was having a daughter, the articles about sexism in tech became immediately more personal and relevant. A lot of attention had recently been paid to conferences, female speakers (or lack there-of), and conference behavior. I took this all to heart as I was planning a conference that was held right before my daughter was born – WordCamp. I made a conscious effort to have a good representation of women speakers.
In the WordPress community, it's not difficult to find and meet amazing women doing amazing things. Look at Lisa Sabin-Wilson, my neighbor to the east – she wrote a book. I've thought about writing a book – but she actually did it! However, you don't have to be a superstar or "internet famous" to add to the conversation. Maybe that's why I enjoy working with the WordPress community. It's easy to meet all types of people doing great things.
Even though WordPress is written in PHP, I found that there's a big difference between these two communities. I've only been to two PHP conferences: php|tek in the mid-aughts and most recently MidwestPHP 2012. At both conferences, the only female speaker was Sara Golemon. Maybe it was just coincidence. Sara is a highly respected contributor to the PHP community and she's also a published author. But my feelings concluded that she had become the token female spokesperson for PHP conferences.
So what can we (especially men) do? First you need to change your mind. If you don't have a daughter, imagine one of the few women in your technology field as if she were. Is she being treated fairly? Are you treating her fairly?
Then start leveraging your power for good. Be your own superhero. If you're organizing a conference, go out of your way to include women. Pay it forward: my business partner teaches a class called Black Girls Code. For those who don't know him, he is neither black, nor a girl. If you're involved with the interview process at work, bring some women in. I guarantee they'll bring new perspective to your old boys club. It may only take a couple of GI Jane's in a male-dominated field to turn the tide and welcome a new wave of female geeks.