When I began to ride bicycles again as an adult, I invited my friend John W. Robot (a.k.a. JohnBot) out to ride. In the summer, I'd ride to "College For The Easily Amused" – the Twin Cities (Spin Cities) local yo-yo club that we are both part of. Yes, we're nerds.
John said he didn't have a bike, but another one of our yo-yoing compatriots led on that he does in fact have a bike that he bought in Japan. My curiosity was peaked, so I kept pressing John about it. He said it isn't very useful because it's a folding bike, and it's very small. My crazy modder/engineer mind now demanded to see the bike because I knew we could turn it from a novelty into (slightly more) useful transportation. This bike has some neat quirks including a drum-brake that everyone I've spoken to claim will last the lifetime of the bicycle (or rider). It also has the front and back brake levers reversed from what I expect… a trait that John insists keeping because it's part of the bike's character.
So I helped him to make it rideable again. Below is the only photo I have of it nearest to it's stock form. John bought it in Japan while visiting for a yo-yo contest (he's a sponsored yo-yo player). In Japan, they take one pedal off of the bikes so they don't get stolen. After purchasing the bike, John didn't receive a matching pedal. So we first set off to a local bike shop (CARS in this case) and got a matching set of folding pedals. Also we replaced the seat with an extra I had lying around.
With it now usable, the issue we first wanted to tackle was the gear/gain ratio: how far the bike traveled with a turn of the pedals. There was a lot of wheel space in the back, so we stepped up from a 12″ wheel to a 14″ wheel. This involved me custom building a 14″ wheel using one from a salvaged kids bike. 14″ wheels (and their accompanying tires & tubes) are not common. To go with the 14″ kids bike rim, I disassembled the original 12″ rear wheel to reuse the hub, which included the drum brake.
After my first wheel building class at The Hub, John was the proud owner of a new 14″ rear wheel, which helped him achieve the "reverse penny-farthing" look he wanted. He also picked up a used seat at Recovery Bike Shop to replace the stiff & small one I had supplied.
In an effort to further increase gear/gain ratio, we decided to up-size the chain-ring and crank arms. Also at Recovery we found a used 52-tooth chain-ring and 170mm crank arms to go along with it. You can see it installed here as well as the bike folded down.
Next we needed to get the rider's saddle up to make for (more) efficient pedaling. JohnBot is 6 feet tall – and while I gathered this bike was possibly made for a child, I was still determined to help him make it rideable. It looks somewhat like a clown bike when he's riding it, but that's what makes it so great. So many comments from passers by just make you want to work on it more…
By just raising the seat-post, John's knees would go right into the handlebars. I reminisced about the 80s "lay-back" BMX seat-posts and wondered if we could use something like that. Apparently, they're no longer around because once you bend the tube so much, it inevitably is going to bend more at that point and ultimately fail (break). Instead, we enlisted Erik Noren of Peacock Groove to construct a lay-back style post that was also structurally sound.
It took Erik a while to get it done, but it was totally worth it. Usually when we'd stop by Peacock Groove to check the progress, Erik could be found riding the little orange bike around the shop like a circus bear on a tiny bicycle. But finally Erik delivered a seat-post that would not only support a full-sized rider, it could be used as a weapon.
The last part was to get the handlebars up and forward because it was still a close call with knees at any steering angle that wasn't straight-ahead. It turns out the included handlebar post is 1 1/8″ in diameter – the same as a standard thread-less bicycle fork. So we bought a length of 1 1/8″ fork tubing from Erik at Peacock Groove and reconfigured the handlebars. At Recovery, John found a thread-less stem and handlebars which would push the bars out in-front enough to allow easy pedaling and steering even at slow speeds.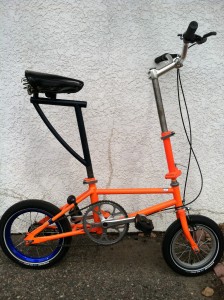 We finished it off with a set of matching 12″ and 14″ Schwalbe Big Apple tires from Hiawatha Cyclery. With the seat far back, it makes wheelies very easy:
People seem to instantly fall in love with this strange contraption. Erik was constantly riding it around the shop. People always give shout-outs to JohnBot when he's riding it in the streets. My friend Jason said he had dreams of doing wheelies on it. Long live oddball bikes.