My son Jules loves trains. I like trains too and my enthusiasm was probably the seed that grew into his obsession. My good friend Joe bought Jules a copy of "Trainz Railroad Simulator" for Christmas a year ago. It was in the bargain bin at Mills Fleet Farm:
But rather than using the keyboard to play the game, I thought it would be easier to use some sort of joystick. A quick internet search yielded this:
It looks huge and intimidating, but based on some of the flight simulator setups I've seen, the train cab controller is positively tame:
Still at $180, I wasn't about to buy the Train Cab Controller, which would certainly make the game infinitely more complex for a 5 year old. Trainz has a "DCC mode" which allows you to control the trains very simply like they are model trains: with a dial.
I always wanted a Griffin Powermate – a superfluous USB volume knob you can add to any computer. But now I had an actual use. I got a USB Powermate for $30 shipped from Amazon.
Powermate Setup for Trainz
When it arrived, I downloaded and installed their driver software. It renders terribly in Windows 7 (it was probably last updated for Windows XP):
The "click" and "long click" actions are hidden in the interface (you can only see 4 at a time). But they're there, you just need to highlight an action, and arrow down until you get to others.
For the Trainz Simulator setup, I added the following settings:
Rotate Right: Send Key – W (forward)
Rotate Left: Send Key – X (reverse)
These keys control the forward/reverse dial in the game. I set the sensitivity fairly high (see screenshot) so a turn of the Powermate would closely match what you saw onscreen.
Click: Send Key – S (stop)
Long Click: Send Key – A (apply brake)
"S" stops the train by putting the dial immediately back to zero, so a quick click is an easy way to stop. Trains are heavy though and the "A" key normally applies the brake, so I added a long click action to apply the brake – I like to think of the long click like pressing the brake pedal in a car.
Enjoy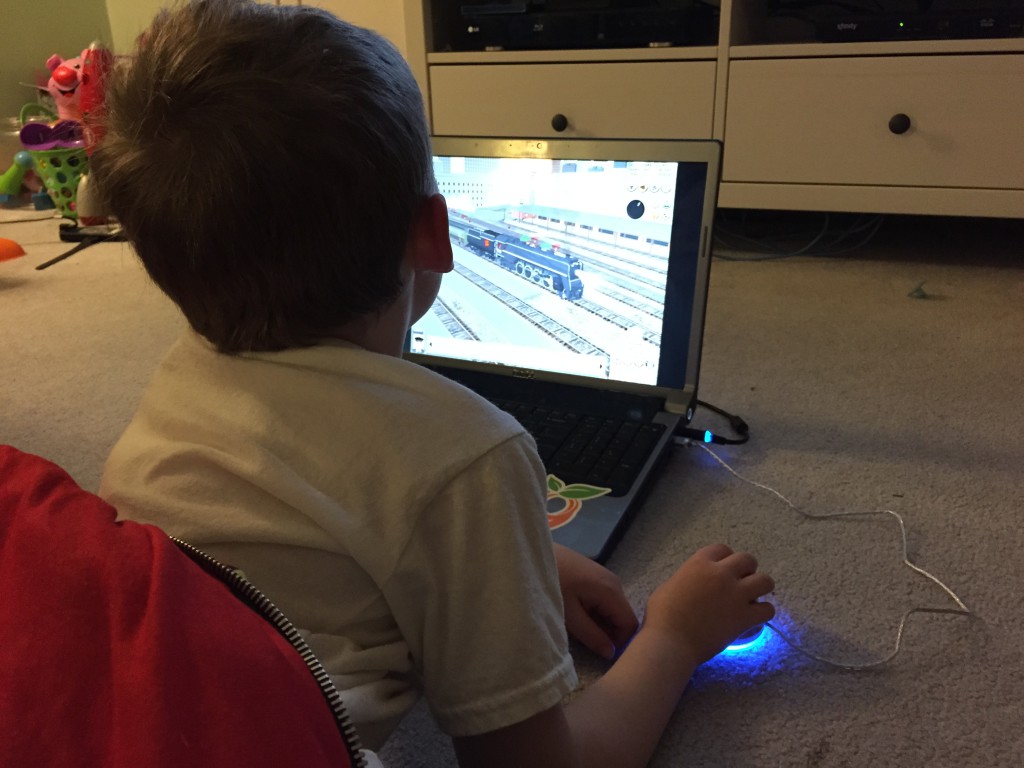 It works exactly as I imagined: simple! You can see the "dial" on the screen and the Powermate glowing under Jules' hand that now controls it. Easy peasy.
Both the Griffin Powermate and Trainz Simulator (newer versions) are available for Mac OSX so Apple loving trainiacs won't be left out.