First of all this is really just a bunch of poppycock. You don't need any of this stuff to enjoy real maple syrup at home. In 2015 I had done a cook very shortly after some very heavy sap collecting days. This yielded the lightest syrup I had ever made, so Jessi encouraged me to enter it in the Minnesota State Fair competition.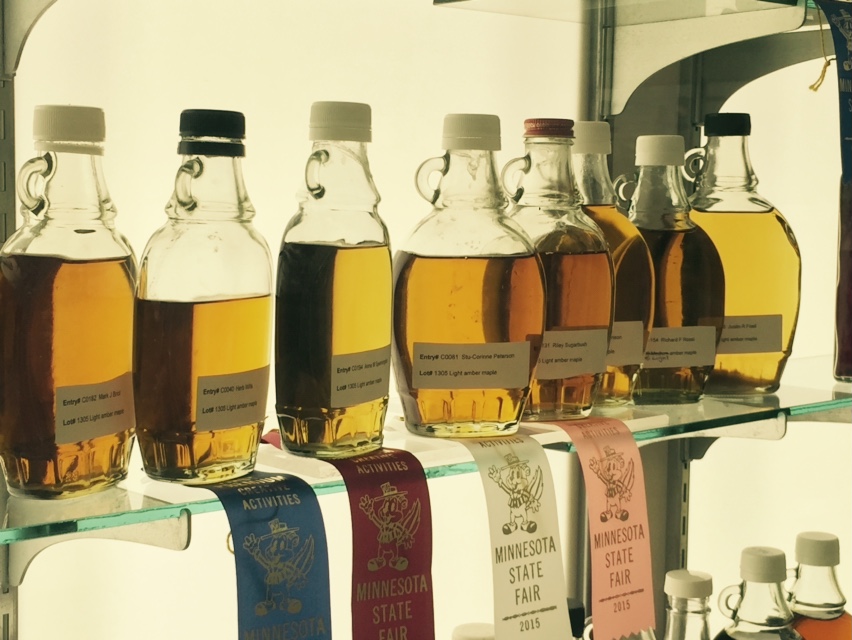 It was fun and I'd like to improve on my process a little, but doing these things by no means should preclude you from enjoying real maple syrup.
After the contest was over and I retrieved my syrup, I was also given a score-sheet. It was immediately apparent that I was out of the running right away due to two things:
Density (worth 20 points) – score: 0 (57.1 Brix)
Clarity (worth 15 points) – score: 0 (sugar sand – which you can clearly see in the photo)
Density
Syrup density is measured by a sugar content degree scale called Brix. It's measured using a hydrometer. I didn't have a hydrometer for 2015, I simply went by the boiling temperature of somewhere around 219-221°F. In competition, they're much more precise:
Below 66.0 Brix – 0 points
66.0 to 66.9 Brix – 20 points
66.9 to 68.9 Brix – 15 points
Greater than 68.9 Brix – 5 points
Clarity
I was deducted in the clarity category for sugar sand. For the record, I do not mind sugar sand, and neither do some other producers. It's really a matter of aesthetic. But so I can compete solely on flavor, I need to filter the sugar sand out of my competition batch(es).
Equipment
For the next competition batch, I purchased the following from Sugar Bush Supply:
Again, I'll stress that if you're not going to compete, none of this stuff is necessary.
It was all about $75 after shipping. Sugar Bush Supply is rather old-school when it comes to ordering. You can view their catalog on their website, but you have to call, fax, mail, or email in your order.
Other Categories
The other two categories, color and flavor, account for 15 and 50 points, respectively. Color is somewhat of an educated guess. The tools to accurately grade color are far more expensive than the tools above. I give it a good guess on color: light, medium, or dark amber and call it good.
Flavor is where the real competition is, but I believe you need to have a full score in the other categories if you want to vie for a ribbon.
I'm not even sure if I'll be able to compete in the state fair this year, as the weather has been very strange:
We went right from no days above freezing to no nights below it. I'm curious how this will affect #syrup production. pic.twitter.com/zEbfWA3JfM

— Greg Seitz (@gregseitz) March 7, 2016
Hopefully we get back into "normal" spring weather (freezing at night, thawing during the day). Otherwise the sap season may be cut short and the competition will have to be put off until next year.
See Also: