…and marching band, WGI, etc. Props for any sort of marching arts are only as good as the best "band dad" in your group. Some band dads are great engineers, but staying in budget is always the trick. Aside: that term was not (properly) defined in Urban Dictionary, so I added a definition 😎
When it comes to props, the name of the game is cheap since they're only used for a season. But they need to last a whole season, and work consistently. Sometimes you need to solve a problem which doesn't have an off-the-shelf solution. When structural strength is not a concern, 3D printing can help.
3D Printed Mutes
This summer Minnesota Brass did a show called Route 66 which was themed around various road-trip/mechanic ideas. The trumpets had intro section that called for straight mutes. Rather than spending $20-40 (each!) on mutes, I bought a spool of orange PLA+ filament from Micro-Center for $20.
Our trumpet soloist also has a 3D printer, so I dropped the spool off at his house and he was able to print all of them up. The cork was cut from a large sheet. It had sticky backing, but he made sure it would stay permanently with cyanoacrylate (CA) glue a.k.a. super glue.
At first I thought he paused the printer and switched from orange to white filaments to get the stripe look. Nope, it's just white electrical tape – you'd never know from 10 yards away.
If you want to print straight mutes that are show themed, you can find the STL files here. I tried getting the cork from a local music shop without luck, so we bought some from Amazon.
Flag Clips
Another prop we had was a Route 66 street sign made from 1.5″ inside diameter (ID) PVC. The goal was to be able to clip a flag to the sign post so they can be moved around together without issue. Here's the first version to give you an idea:
Version 1 barely survived one show, but that's OK. The trial and error revealed where additional material need to be added for strength.
From feedback from the guard I learned the flag clip part could be a little bigger to accommodate the flag silk. Version 2 had a double-detent design to help prevent the flag from falling out on it's own.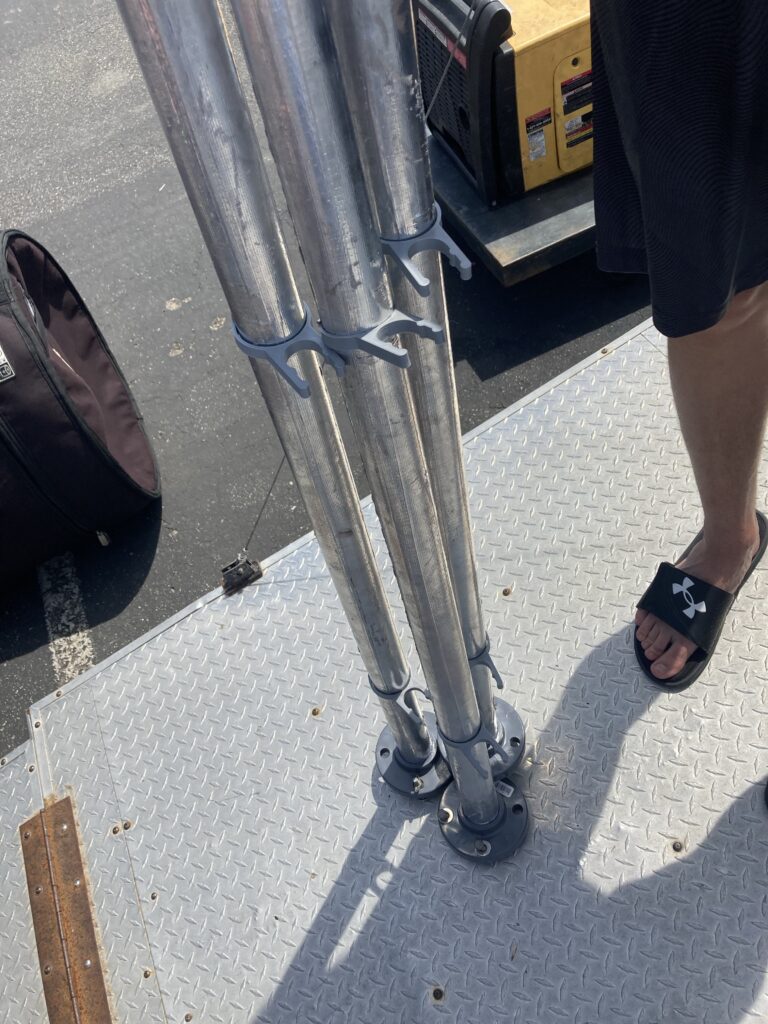 The clips slip over the PVC and it has enough room for pole tape (we used chrome Duck Tape). To hold them in place we just added a strip of duct tape on the opposite side of the clip. Here you can see the sign in the background. There are two small bulges on the bottom half of the post where the clips are fastened.
I put the flag clip design on thingiverse here: https://www.thingiverse.com/thing:5473613
Both Shannon, our trumpet soloist, and myself have Creality Ender-based 3D printers. They're not expensive, and you may already have someone in your group with access to one. They're less than $500 and band nerds like to nerd out in other ways too. Ask around and use this new technology to your advantage, it wasn't mainstream before but now it is. 📈