It's not technically winter yet, but let's face it. By the time this is published, most of Minneapolis/St. Paul and the surrounding area will be covered in a blanket of snow. Judging by the single digit temperatures in the forecast, I think that winter has officially arrived and will be here to stay.
It was nice to see several people out yesterday (Sunday) on what was possibly the last nice day to ride. For those that want to forge ahead through ice and snow, I suggest studded tires.
This photo was taken in April of this year. If you've ever wondered why Minnesotans are so jazzed about summer, it's because we only get 7 snow-free months. Relish every minute!
I must admit that I have sort of a thing for wheels and tires. Maybe it's the smell of fresh rubber. For my car, road bike and mountain bike I have at least two sets of wheels and tires: summer and winter. In some cases I have 3 🙁 I like to have both wheels and tires because it makes it less of a hassle to switch them out. It's a ritual I perform with the changing seasons: off with the summer tires, on with the winter tires. And winter is here…
Riding your bike in snow can be fun. It is at least fun until the first time you take a digger. It was likely due to ice, and the ice that made you fall is probably hard as concrete. At least that's what happened to me. That's when I seriously considered getting studded tires.
Non-studded setup
Before I had studded tires, I used some simple Bontrager mud tires.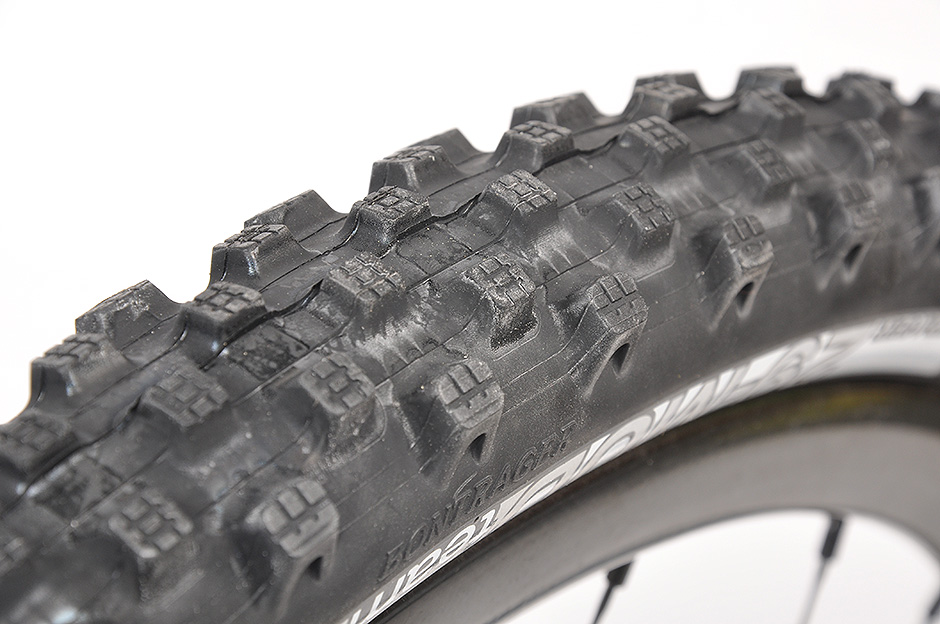 They are no-frills knobby tires. I really like them because the tread is simple and non-directional – it can be mounted in either direction. I have a flip-flop hub on my back wheel, so if I want to turn it around, I can do so without having to re-mount the tire in the "correct" direction.
These work great in snow, especially with the tire pressure lowered. If you have a set of knobby tires and want to try riding in snow, I suggest you just lower the pressure (go with the low number listed on the tire) and try it out.
If you want to experiment with even lower pressures to get more contact area (grip), tread lightly and maybe use slime or something to prevent pinch-flats if your tires use tubes.
Studly Studded Studs
Let me start with a disclaimer that studded tires often are not cheap. I am a fan of Schwalbe Tires – I run Big Apples on my bike in the summer. Their studded tires are highly regarded and some have non-directional treads so I can use it easily on my flip-flop hub. But they are not cheap. Per tire, they cost me more than the snow tires currently on my Subaru.
I would expect to pay at least $50 per tire. If you've found something cheaper that looks legit and will fit your bike, you're in luck.
If you can't afford studded tires, there are tons of creative ways to make your own with a regular tire, a drill and some screws. This is a particularly over-the-top example:
If you have seen a particularly awesome DIY studded tires, I'd love to see them!
You can run just one studded tire, but I'd recommend two. Where studded tires really shine above regular knobbies is on hard-pack snow and ice. You really don't want to run the studs on pavement as they'll wear faster that way, and the studs actually provide much worse grip than rubber when it's on concrete or asphalt. Some studded tires get around this conundrum by only putting studs out towards the edge. Talk to your local bike shop and they can help you decide on a brand/type that suits your riding.
Riding in snow can be sort of nerve wracking at times, especially when the snow becomes hard and rutted. I'm still wrestling with this myself. I tend to white-knuckle the handlebar when loosening my grip and going with the flow would be a much more pleasant experience. If I were a better mountain biker, I probably wouldn't have this problem 😎
So here's to winter. Hopefully it's just the beginning of a different type of riding season.