I just got done with a fantastic first season with MBI Winds, a new independent hornline that competed in WGI's Winds class. Our goal was to create an outlet for horn players of all instruments and all ages. We set out to show how hornline culture is cool 😎 And it was the hardest thing I've ever done.
Timing the start of an Independent Group
Not many people (including twin cities students) know what WGI Winds is. There were 37 units that competed at WGI in Dayton last year – across all divisions (A, Open, and World). Only one of them was from Minnesota – River Valley Sound (RVS) a.k.a. Elk River Combined Schools.
Having worked with RVS since 2020, I felt there was enough momentum from graduates to make an independent group happen. At the start of the season it seemed promising. This was a screenshot of the registration list that wound up in the staff chat for RVS: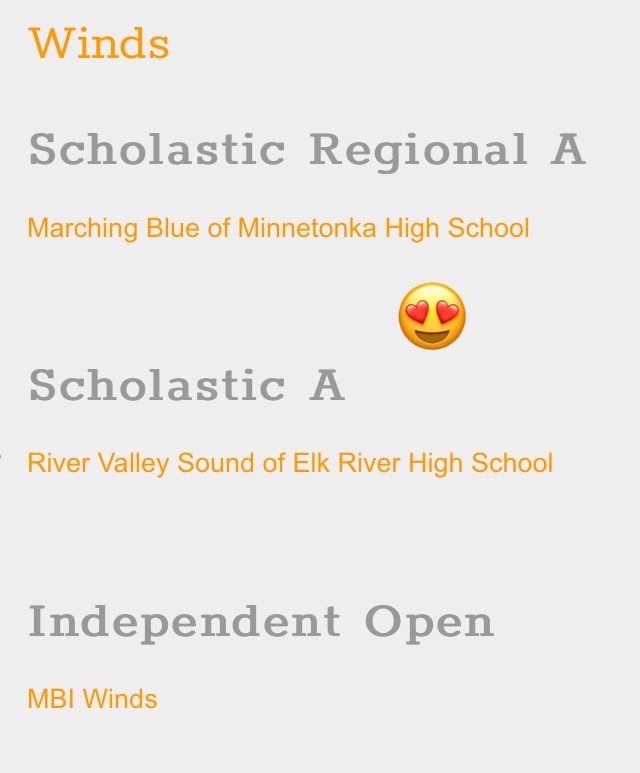 AND there was another Independent group from Mankato that was supposed to come out in Exhibition.
The timing seemed right! But I underestimated how hard recruiting is. Recruiting is hard. Harder than getting a college degree. Harder than marching an entire season of drum corps. It was draining! 😓
It wasn't just me. I soon came to find out that both Minnetonka and Mankato would not be coming out this season for recruiting reasons. I kept at it through late January – that was when we filled our remaining saxophone spots. I was content to keep the group at 20 members even though the drill (and budget) was written for 24. Otherwise I would have gone insane 🤪
Independent Groups are Hard
We don't have a captive audience like a student body. Members are paying to participate. They can decide in an instant that it's not worth their time or money. This fact is not lost on anyone inside an independent organization, but I'm not sure if outsiders realize it.
We don't own any real estate, so facilities are a big deal. The days of hand-shake deals with local band directors are over as just about everything goes through Community Education. Some of the best things Independent Groups can do are:
Partner with a local church or other space that might not otherwise receive income/donations to use their facility.
Find a school district that operates without a Community Education management system and negotiate a partnership directly.
Negotiate a deal with Community Education based on the number of rentals (this is rare, but sometimes possible)
Paying for all of our facilities means we must maximize what we can do in that time. Sometimes the work isn't sexy, so we must fall in love with chopping wood & carrying water.
All instructors & administration of independent groups are underpaid. In most cases they need to be – to ensure affordability for the members, and the survival of the group. Staff should be there for the love of the activity & the members. If money is what you're interested in, you're better suited to finding a scholastic program in a ritzy neighborhood.
Independent Groups are Important
The success of any independent group is usually reflective of the success of scholastic groups in their region. Band directors – think about what your goals are. Not just the goals of your program this year or the next 5 years – over your entire career. One thing that is not lost on me is making music last a lifetime.
50% of students are going to quit playing after high school. What if we could encourage students to keep playing just a little longer by asking them to follow-through on something outside of school? Independent groups (including community bands!) are part of that equation.
How can people help right now? Local band directors, we need your help specifically. None of the things I will suggest are groundbreaking.
Answer your email and return phone calls. I get it, we all have hundreds of unread messages. For every band director I contact I typically get a 35% response rate on messages.
If someone from an independent group is asking for interested members, ask. Even if you think no one is interested, just ask. If someone is interested, great! If not, then you can at least say you did.
We are on the same side. MBI Winds maintained a policy that outside music commitments come first unless it impacts a competition. Recognize that members participating in independent groups are high performers. They're the ones in all-state band, honor band, etc. There's a compromise to be made on both sides and communication is the key.
Making it last
I was speechless when I was recognized by peers as going above and beyond to make the season work.
I was super greatful, but my favorite "trophy" for the season was this:
I'm forever grateful for these 20 musicians that dedicated themselves to an idea. We had no basis to know what the group could or couldn't do – we all just had to believe. I'm hopeful that next season might be a little easier 🤞The groundwork that was laid will hopefully be a good foundation. If we turned some heads and got people to say "that looks like fun" then I think we're on the right track.