As someone with celiac, I had a lot of reservations about traveling to Italy. But then I read an article that explained how good (actually great) it is. I won't re-hash everything they said, but I will reinforce much of it. Plus I'll share some times when the experience went from good to simply fair. Above all I want to stress that dining out in Italy is much better regarding food allergies (and similar conditions like celiac) than in the US. When it's fair instead of good, that's when it's on par with the United States.
Consider Prosciutto – Italy's favorite dry-cured ham. When they dry the hog's hind leg, the open end is stuccoed – covered with a lard and flour mix to seal it from the outside. Italy (yes the whole country) changed from wheat flour to rice flour for celiacs. Same great taste, now gluten free for everyone!
☕ Coffee & Ice Cream 🍦
I set out to consume two things every day Italy: espresso & gelato. I think I missed one day for each in total. My first day in Rome I got an affogato at a cafe across from the Coliseum. 2-in-1 💪
Gelato shops were ubiquitous. Most of them had gluten free (senza glutine) cones. But there's trouble in paradise: the farther we got from Rome, the less of a chance of finding a gluten free cone 😥 By the time we got to Venice, I had to have my gelato in a cup! First world problems, amirite?
Communicating with locals
85% of the people I interacted with spoke enough English for me to feel safe. "Senza Glutine?" went a long way with waiters and hosts. They'd typically reply with "Pasta" or "Pizza" and then I'd stop in. If they said "Salad" I'd pass. That's like the time the waiter at Applebees tried to sell me on steamed broccoli – I instantly wanted to fight him 🥦👊
For others that didn't speak English (it was rare), I had purchased, printed, and laminated an Italian GF restaurant card. I presented it to a hotel kitchen staffer that didn't speak English and then she brought me an entire tray of GF goodies! 💥
Celiachia App
Italy takes celiac seriously, and they have an app called AIC Mobile. Get it! Sign up for an account a few days ahead of time because it's not intuitive. They'll ask for a member ID but you can skip it, which wasn't clear to me. Members (Italians diagnosed with celiac) get free access to the app, but you can pay $3.99 in-app for "Welcome Access" that lasts a week or so.
Gluten Free Gems
These are a few must visit places if you're in the area:
Celiachiamo Lab (Rome)
An entirely gluten free grocery store. A must see above everything else I listed here. I can't begin to tell you about all the things they had, so I'll just show off their bakery case.
Quinoa GF Restaurant (Florence)
Entirely gluten free restaurant – yep. I'm lucky that we have a handful of dedicated GF restaurants in Minnesota. Amazing to encounter one abroad. Beer and fresh baked bread 🍞🤩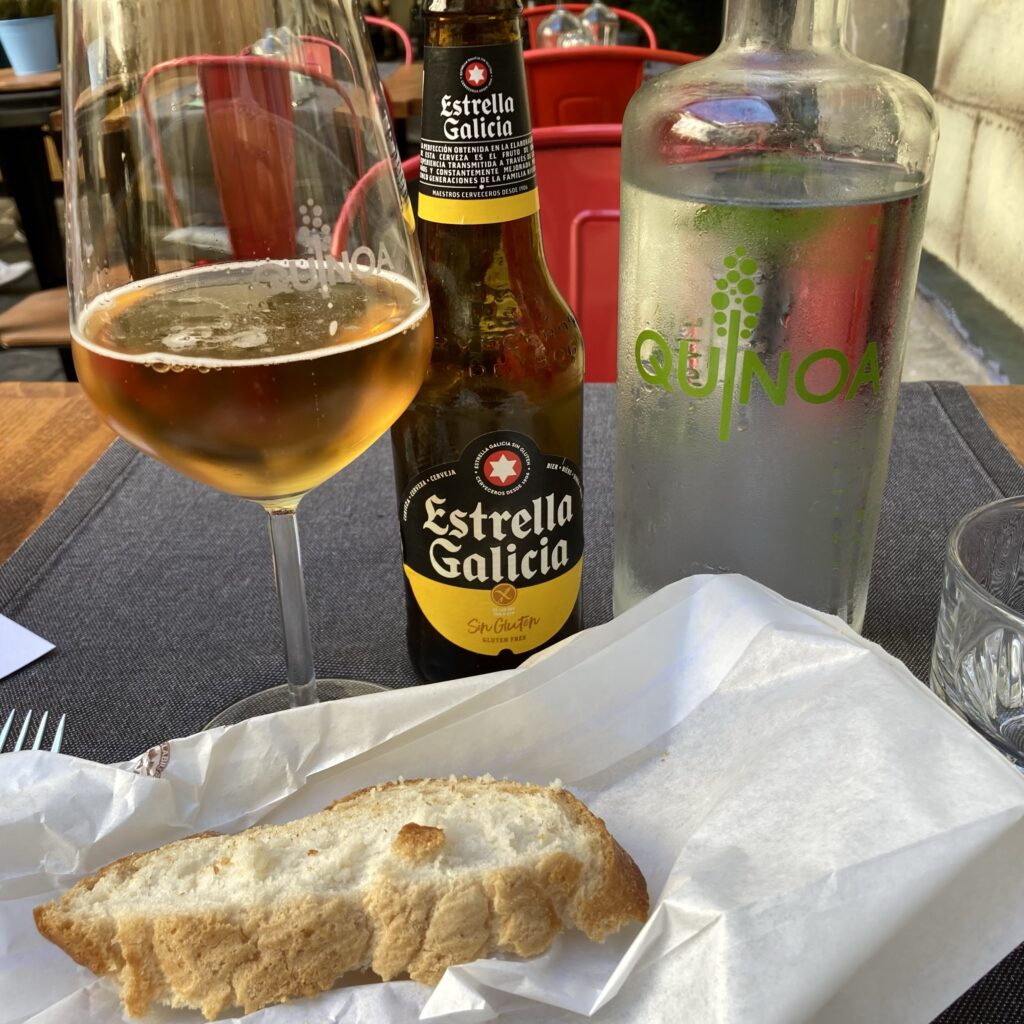 Officina Gastronomica (Parma)
Sort of a hole-in-the-wall strip-mall deli case. Not dedicated gluten free, but more than half of everything they had was GF and kept separate or sealed. It's not far from the Parma train station, if you're in the area.
I had a GF ravioli that was stuffed with potato – almost like a pierogi. I had the cook put some buttered spinach on the top and washed it down with a GF beer 🍺
Eat up, don't worry!
There are so many delicious GF things I ate in Italy, many of them just at regular restaurants. I'm telling you, some of these dishes are life changing. In Rome alone: GF tiramisu at Tiz Cucina e Sofa and a parmesan bowl full of pasta at Ristorante Cantina 26. I even had a fantastic GF bacon cheeseburger 🍔 (yes I had ONE burger in Italy) from Deliburger in La Spezia.
The bottom line is you don't need to worry if you're celiac or gluten sensitive. I was there for 9 days and didn't have any issues. On the flip side, I got sick last year on my trip to Scotland from a hot chocolate mix of all things 🤢 Italy, especially Rome, was a truly amazing dining experience 🇮🇹🍝