I was really getting to love my Fitbit Charge 4. It ticked all the boxes I needed:
Built-in GPS
Great Battery Life
All seemed great, until it wasn't. I did a ride with a friend in April and it inexplicably dropped GPS signal after 5 miles.
Elapsed Time
Moving Time
Distance
Average Speed
Max Speed
Elevation Gain
Calories Burned

02:53:01

hours

00:29:05

hours

4.90

mi.

10.10

mph

21.03

mph

73.16

ft.

1,304

kcal
My Fitbit stopped recording for some reason (said it lost GPS signal 😖). Actually went 16 miles, see https://www.strava.com/activities/5186103344 We went down Chicago to 38th. Continued south on Chicago then east on 46th to Sift. Then took the creek trail back to the river, then back the way we came.
Then it happened again, and again, and again. I found myself having to use my phone to record the remainder of the ride. That is, if I even noticed that my fitbit had conked out.
I could be riding outside in perfectly clear weather and then BAM, I'd get the dreaded "Cannot establish a GPS Connection. Turning GPS off" message 😡 WTF? No option to retry or anything. My fitbit would say "we're done here" and give up. Very frustrating.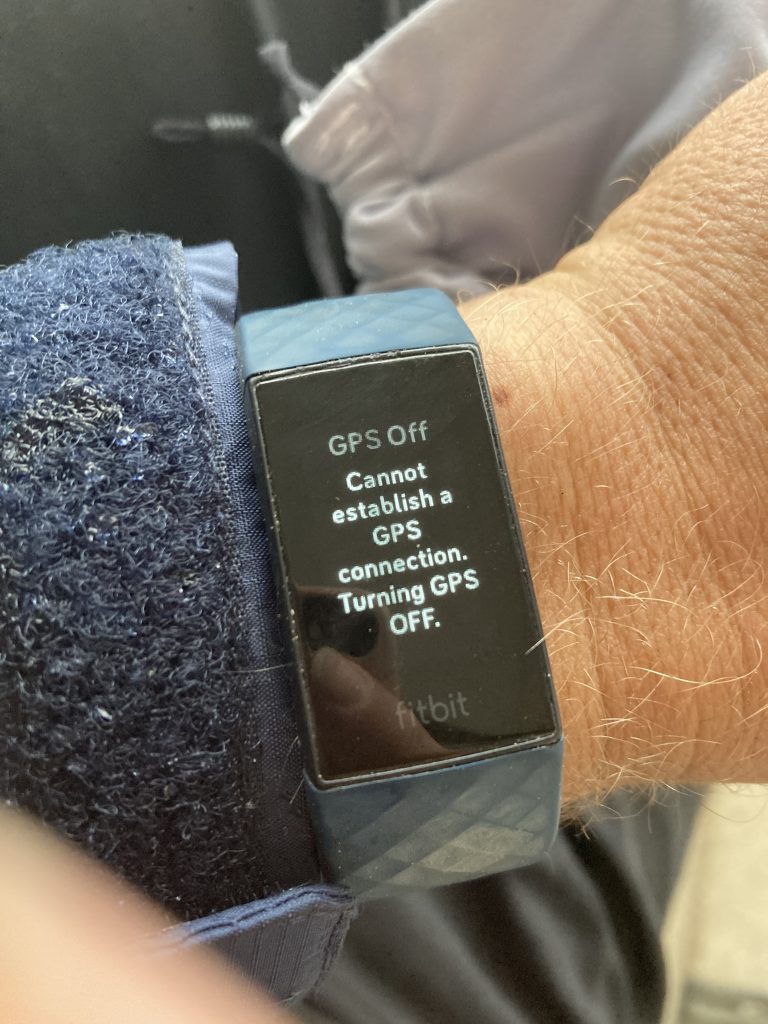 I opened a support chat with Fitbit to see what's up. They had me go through the usual paces of making sure it had a full charge, disabling/removing unnecessary apps, make sure the firmware was updated, double-checking the GPS settings. Then they put a "watch" on my account to see what the tracker was logging.
Charge 4 RMA
They saw the same problems I was having, and then they told me to send my unit in for a replacement. Curiously they didn't tell me what they were doing – presumably they knew what the problem was and they had a newer hardware version of the Charge 4 that would remedy the problem. But I can't tell what has changed since there's no indication of hardware version without opening it up to look at the circuit board.
I did some testing and noticed a new behavior when doing activities that use GPS. When you go into a building, or tunnel, or someplace where GPS signal is lost, it doesn't turn the GPS off, it starts looking for a signal – indicated by a dim arrow icon in the upper left.
To confirm that it's truly fixed, I went to my piano lesson (which is in a basement) and left the GPS running the whole time – 30 minutes indoors. It never turned the GPS off and I was able to record my full ride home.
Elapsed Time
Moving Time
Distance
Average Speed
Max Speed
Elevation Gain
Calories Burned

01:27:29

hours

00:59:04

hours

8.98

mi.

9.12

mph

20.36

mph

208.66

ft.

514

kcal
More Fitbit Charge 4 GPS testing
I wouldn't recommend doing this normally – searching for GPS signal is likely a very power hungry operation. If you're stopping somewhere, best to hit the pause button and then resume when you leave.
Get it replaced
I'm not the only one having this issue, as indicated by this thread in the Fitbit community forum. If you have one of these, you should contact support to get it replaced. With the issue fixed, it's great and I no longer worry about losing my riding log.