Below is the Foell lineage that I traced at the Genealogy Library in Salt Lake City – one direct branch just to keep it simple. These are the names and birthplaces:
Christian Foell – Stuttgart, Germany
Philip Foell – Iowa
Louis Foell – Iowa
Arthur Foell – Iowa
Harold Foell – Minnesota
John Foell – Minnesota
Justin Foell – Minnesota
By the power of the internet, the book "Portrait and Biographical Record of Dubuque, Jones and Clayton Counties", which contains a short chapter about Philip & Christian Foell, is now available for anyone to read for free. I found this book during my research and made a photocopy of the relevant pages (516-517), but you can read the whole thing at that link.
I did photocopy my census notes that we used at the library during our research.
While my grandfather Harold had found his eventual home in Anoka, according to the 1920 census record, he grew up at 2724 Penn Ave., possibly the first Minnesota-stop on our genealogical tour.
Sadly, there's no longer a home there, it's just a vacant lot. I didn't find much detail looking at Hennepin County property records, but according to satellite imagery, it was torn down sometime between 2006 and 2009, possibly a victim of the subprime mortgage crisis.
Using some of the Minneapolis Library resources, in the Digital Sanborn Maps I noticed the home existed since at least 1912: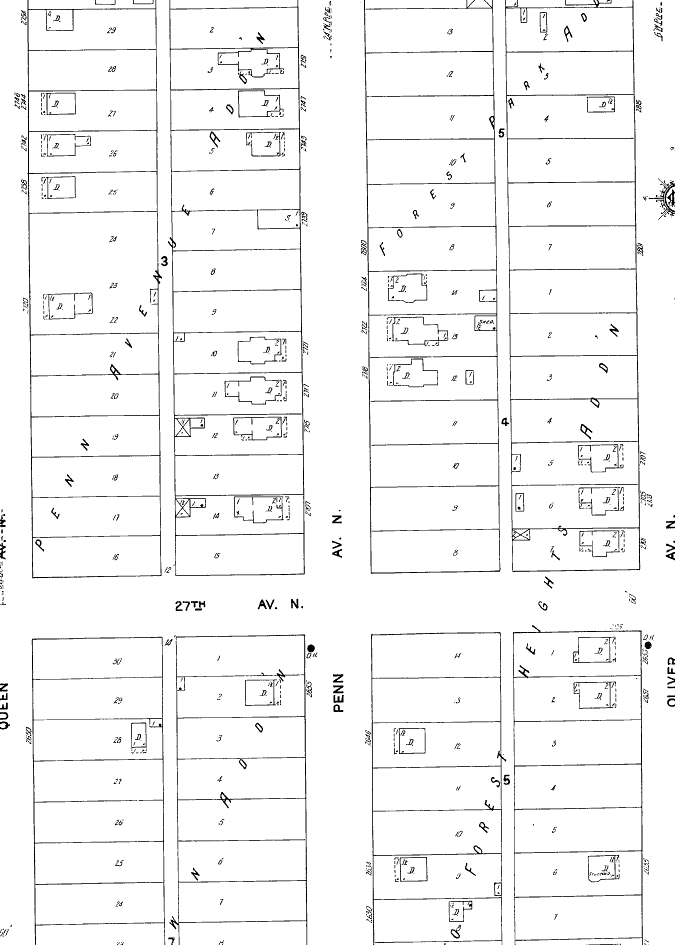 Also, I checked the Minneapolis Library's City Directory Collection. I checked the 1920 directory since that was backed up with my census data, and found that Arthur Foell was a foreman for Robins Transfer Company, and his brother Louis Foell was a welder.
The 1900 census and 1870 census records got us to the emigration point, with that fantastic "Biographical Record" chapter completing the picture.
If you have any questions about my chicken scratch on those census notes, please comment below. I made several corrections with an eraser that blurred the text, plus my handwriting isn't great to begin with.
If you'd like me to add any additional information, write a comment and I'll update it.